Christmas 1996
---
Below are some of the Christmas entries in the Ladies Journal. If an author is not identified, it is me. Other contributers are:
ET - Elizabeth Turnock, my grandmother
CAS - Carolyn Sawyer, my sister
Samantha Sawyer, my cousin
Frankie Sawyer, my cousin
BWN - Brian Nenninger, longtime friend from high school
---
December 25th, AKA Christmas Day
We are eating dinner at Margeretha and Jerry's when we could be out watching The Evening Star, the acclaimed sequel to the academy-award winning film that's touched millions, Terms of Endearment.
In less than 3 minutes in the blue suburban a controversy was born:

Vicky discovered that her seatbelt was not functional. She expressed displeasure (in other words BITCHED) about the suburban's safety features. Then Jay, the physical manifestation of Christmas spirit, volunteered to share his seatbelt even though that meant his butt would have to touch his sister's. The solution was satisfactory to all the participants involved (with maybe the exception of the seatbelt whose flexibility was being pushed to its limit. If the seatbelt was male, its flexibility was almost at the scrotum-splitting point... but not quite) BUT Lowell Sawyer, the driver of the vehicle, decided that incestuous seat sharing was not appropriate behavior of good Christian children, especially on Christmas Day. Consistent with the behavior of holy men from the middle ages (assuming they had automobiles) Lowell slammed on the brakes, put the suburban in park and evicted Vicky and Jay from their seat. Next, Lowell started to tug at Vicky's seatbelt, trying to intimidate it into functioning. This all took place is the right turn lane (segregated by an island) to Rt. 123. As Lowell struggled with the seatbelt an impressive queue of cars desiring to turn right accumulated, the drivers of which demonstrated a sub-optimal amount of Christmas spirit.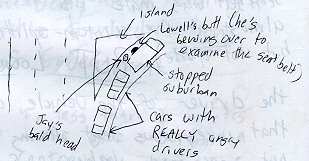 As luck would have it, Lowell fixed the seatbelt and returned to the driver's seat. However, by that time every single car behind us, through use of innovation and blatent disregard for traffic laws found ways around the suburban.

This seatbelt fiasco strongly resembles the SUPER CROWN INCIDENT that occured just a few days ago.
---
THE SUPER CROWN INCIDENT
As Told By Vicky Sawyer, TGAW

To Lowell Sawyer's dismay, his newly purchased book, Winning at Casino Games, had failed to absolve Lowell of all his debts- past and future. Taking note of the "satisfaction guaranteed" phrase printed on the receipt. Lowell decided that he would return the book. Conveniently the Sawyers decided to see Jingle All The Way (despite desperate lobbying on Vicky's part to go see Beavis and Butthead Do America). Supercrown, the source of the book, was on the way to the theatre. As usual, the Sawyers were very unorganized and as a result were running late.
Now normally a person in Lowell's haste possessing Lowell's compassion for the disabled would drive down Prince William Parkway, pass Supercrown, turn right at the first light, turn right at the first light, drive through the Shopper's Food Warehouse parking lot and then park in one of the many available handicap spots while performing the return transaction. However, Lowell decided that he was too good for handicap spots. In fact he was too good for parking lots in general. So while driving down Prince William Parkway-- a four lane road with a speed limit of 55, Lowell just stopped the car in the right lane, put his hazards on, grabbed his book and started to exit the car. Only because of the vehement protests produced by his family did Lowell reenter the car and abort his plan. Instead, he did the aforementioned technique. Super Crown took back his book. The Sawyers made their movie and life was well.
The End
---
What a beautiful Christmas Day! It's sunshiny in the 40's. About 10 AM I went to Anne's to open presents. I made a killing, Santa did very well for me. We are at the Sawyers' for Xmas dinner which is always a delicious treat. Tim & Maria have just came in which always makes for a lively time.
- E.T. 12/25/96
---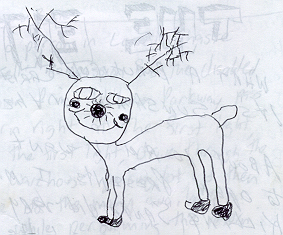 That was Rudolph (his nose is blinking) by Samantha. Now in celebration of the birth of Jesus Christ and the forgiving of sins, Frankie will draw a Christmas tank and a truck carrying boats: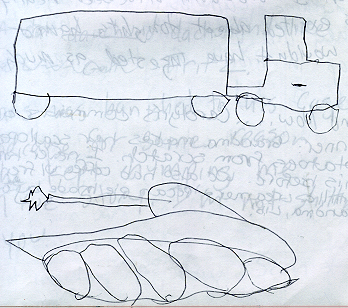 ---
5:12 PM
We just finished dinner. Scalloped potatos, brocholi [brocolli and cauliflower - CAS], fresh rolls, watergate salad and HONEY BAKED HAM!!! I ate ->WAY<- too much. I blame this on Sean. If he had been significantly cooler a while back and brought me home leftover ham then I wouldn't have been nearly as excited about tonight's ham and I wouldn't have ingested as much.
---
And Now... Carolyn's comments on dinner: Grandma makes her scalloped potatoes from scratch. I never knew this before. We also had coffee w/french vanilla creamer & pecan pie made by the other Grandma, Lib!
- CAS
---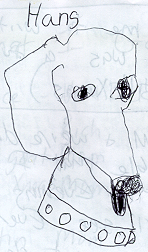 Image done 12/25/96 BY: Samantha Sawyer
---
E.T. wants me to write down that there was a full moon tonight (still Xmas)
---
It's 8:08PM and we're driving home. It's still feasible that I could get to see The Evening Star tonight. We'll see. Everyone else is wussing out claiming they are "too tired" to do anything. Lameos. Then again, they did not take an hour long nap in front of the fireplace like I did.
---
What I Got:
| | |
| --- | --- |
| necklace | Vic & Becky Lipinski |
| Advil | Rich |
| stuffed goat | Mom |
| CD with Xmas Songs | Mom |
| muffin tin | Mom |
| cake pan | Mom |
| cake/brownie mix | Mom |
| scented candles | Clint COOL |
| Photo albums | Dad |
| Whitman's sampler | Grandma Lib |
| Waterford Crystal Vase | Grandma Margaretha |
| Leather purse | Curlys |
| Book on barf | Carolyn |
| Cappucino mix | Jay |
*not including AE, Brian and Sean*
---
Brian on Bubba:
Several hours ago I chose to abandon my family and venture to the Sawyer domicile, at which a gift awaited me that had been praised by many. I decided that if it was really that good, I should obtain it as soon as possible. I can say without exaggeration that that was one of the best thousand decisions of my life, because upon my arrival I was greeted with the Holy Grail of talking stuffed animals, the Real Talkin' Bubba. I realized many lesser informed individuals felt that Tickle Me Elmo is the pinnable of microchip-controlled preschool toys, but as Table 1 shows, Bubba is vastly superior in every meaningful category.

Table 1
| | | |
| --- | --- | --- |
| | Elmo | Bubba |
| Phrases | 1* | 200 |
| does handstands | no | yes |
| has sunglasses | no | yes |
| must purchase via Mafia-run black market | yes | no |
*and a fairly stupid one, too.

In the remainder of this page, my condensed review of The Evening Star
Pro: Jack Nicholson, characters named "Bump"
Con: Far too much emphasis on shirtless males
-BWN

Show This Page Without Border For Printing