Joseph Maxime Sawyer
Celina Boulard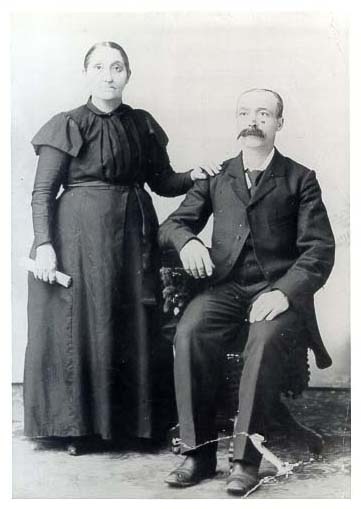 son of Joseph Sawyer and Marguerite Gilbert
JOSEPH was born July 26, baptized August 1, 1846 in Saint-Maurice, Comté Champlain, P.Q.
Godparents: Pierre Gilbert and Judith Boisvert. In the same village he married, Feb. 7, 1870, Celina Boulard, daughter of Francois and Victoria Lacroix. Celina Boulard, born June 8, 1841, in the Ste Marie Parish, Cap de la Madeleine, P.Q., was baptized July 1, 1841. Her godparents were Benjamin St-Pierre and Marie-Anne Beland.
Joseph died March 5, 1915 and Celina, April 23, 1921. Both were buried in St. Joseph Cemetary, Lowell, Mass. All their children were baptized in Notre-Dame du Mont-Carmel Parish, Valmont, Cte Champlain, P.Q.
Their Children:
ANYSIE CELINA, born December 1, 1870. Godparents: Joseph Sailleur, her grandfather, and his spouse, Marguerite Gilbert. She married Joseph Cote, widower of Mathilda Dery, August 9, 1924 at Ste-Jeanne D'Arc Church in Lowell, Mass.
MARIE LUCINDA, born and baptized May 5, 1872. Godfather: Pierre Sailleur; godmother: Parmelia Boulard of Ste-Marie, Cap-de-la-Madeleine, P.Q.

She married William Marchand, born in 1867 in St. Maurice August 17, 1896 in Lowell, Mass.

When a widow, Lucinda, living in St. Enfant-Jesus Parish, Nashua, N.H. took a second husband in St. Louis-de-France, Comté Champlain, P.Q., Nov. 25, 1922, Octave Héon, widower of Anny St. Arneault, born Dec. 1, 1869 in St. Louis-de-France. Anny died April 9, 1919; Lucinda, Dec. 14, 1942; Octave, August 23, 1932.

WILBROD FRANCOIS born April 10 and baptized April 12, 1874 by Father Cloutier, future bishop of Trois-Rivieres, P.Q. Godfather: Fancois Regis; Godmother: Victoire Beaumier. He married Lucinda Paquette, born May 27, 1876 in Trois-Rivieres, P.Q., November 9, 1896. Lucinda was the daughter of Joseph Paquette and Catherine Marchand. Wilbrod died June 8, 1949; Lucinda, his wife, died March 5, 1955.
AVILA, born April 8, 1876 and baptized on the 9th of the same month. Godparents: Maurice Sawyer and Exelia Bourque. He married Aurore Genest July 26, 1897 in St. Jean-Baptiste Church in Lowell, Mass. His wife, Aurore Genest, daughter of Ludger Genest and Euphemie Provencher, was born May 4 (3) 1874 in Ste-Gertrude, Comte Nicolet, P.Q. Avila died June 8, 1959. Aurore, his wife, died May 5, 1950. They were buried in St. Joseph Cemetary in Lowell, Mass.
JOSAPHAT, born March 13, 1878, was baptized March 14, 1878. Godparents: Francois Regis and Elisabeth Sawyer of St-Maurice, P.Q. He married Parmelia Cote in Lowell, Mass. Parmelia was born July 8, 1880. Josaphat died August 26, 1945.
VICTORIA, Sister Ste-Cecilia, was born April 5, 1880. She entered the Order of Soeurs de la Sainte-Famille, August 29, 1904. She died at the Mother House in Mont-Famille in Sherbrooke, P.Q., April 5, 1952.
Show This Page Without Border For Printing